Hey everyone, and welcome back for another installment of When I'm Not Reading. This week we have the most awesome Kara, who runs Great Imaginations! And, if I might add, she's a total BA editor...so if you writers out there are looking for someone, look no further. She'll knock your socks off. :)
Anyway, without further ado, here we go!
I love reading. I'm obsessed. I read mostly young-adult because I never fully matured, but I also enjoy reading contemporary fiction and literary fiction. I also read some Urban Fantasy, memoirs, and travel fiction. I love Bill Bryson. I am currently working as a copy-editor for self-publishing and indie-authors. My editing services page is now live. I am a huge Big Brother fan and I am also an animal lover. You can find me on twitter pretty much constantly. My handle is @Kara_Malinczak.
GRAB HER BUTTON!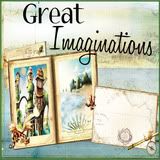 Now onto the fun stuff...her interview! :)
What are some of your pastimes while you're not reading?

I love watching I Love Lucy. I love spending time cuddling with my dog. I work a lot. I edit self and indie-published novels in my spare time. That's my job. And it takes up a lot of my time. I probably pull in over 70 hours a week working. But I do it because I like it and want to help authors put a great product out there.
Also, every summer, I disappear from planet earth to watch Big Brother on CBS. It's my favorite show and has been for years. I am what you call a super fan. I watch it 3 days a week and subscribe to the live feeds which are live on the internet 24 hours a day, 7 days a week. I post on message boards. It usually starts the first or second week of July and runs until the end of September. My reading is severely diminished during that time, but I do the best that I can.

Sounds like a crazy 2 months! :) What's one of your favorite places to go to take it easy/have fun?
I'm a bit of a hermit. I don't leave the house a lot, and there is nowhere I go where I am a known regular. So I guess I would say home! But I am looking for the next best sushi restaurant in the city that I live in. I just moved and the one I used to go to is too far away.
Well I hope you find a great one! Where's one place you'd love to see someday?
I'm actually planning a trip to Southeast Asia. I am nowhere near saving the money I have to save to go, but I'm hoping I can make it there before I hit the big 4-0. It's a budget trip. I don't want to stay in fancy hotels and eat gourmet meals. I want to hang with the locals, eat from food stalls, and stay in guesthouses. I want to be immersed in the culture. In my opinion, it's the only way to travel. I want to hit every country in SE Asia, but if I have to choose one, it would be the Philippines.

Oh, wow! That would be amazing. You'll definitely have to post pictures if/when you go! And of course, the "bookish" questions: What made you start blogging?
Well, I started writing my reviews on Goodreads first. I saw that other people had blogs, and a few that I chatted with suggested I start one. I wasn't sure at first, because I didn't know if I wanted that level of commitment, but once I realized that I didn't have to post every day and I could blog at my own pace, I decided to start one.

That's great. It seems a lot of people get started on Goodreads. Must be the place to start! Do you have a certain place you enjoy to read?
My favorite place to read is the bathtub. But since I can't always be there (I'm not a mermaid), I usually read in my favorite chair. Or in bed. Not very creative, I know, but I would rather read at home than out in public.

No, that's totally okay. I would agree that curling up at home with a good book is the best! What was your favorite book growing up?
The Secret Garden by Frances Hodgson Burnett. But I have many. I was a readaholic when I was a child. I also liked the original yellow hardcover Nancy Drew series, 90s thrillers like Fear Street by R.L. Stine, and anything by Beverly Cleary. But seriously? I had over 300 books as a child and I used my library regularly. I pretty much spent my summers reading. I wish it was still like that with kids today.

That's so awesome! You started your love of reading early, then. ::high five:: What's your favorite book this year so far? (It's okay if you have more than one!)
Oh, you're lucky! We'll have to put it on our TBRs when it comes out. If you could meet one author, alive or dead, who would it be?
I had to think about this one for a long time. I'm going with Agatha Christie. Because she was a brilliant story-teller, writer, and the master of writing the whodunit. One of my favorite book settings of all-time is from her book And Then There Were None, and I would love to read every book she has ever written. I would like to ask her questions about her writing and her writing process. She must know something that the rest of us don't.

Now I'm going to have to pick up And Then There Were None. Thanks a lot! :) If you could bring one character to life from a series, who would it be, and why?
Professor Snape from the Harry Potter series. I admire him and I just want to meet him and shake his hand. He. Is. Awesome. Better than Dumbledore in my opinion.
I totally have a secret crush on Snape. Well, I guess it's not so secret anymore, lol! But seriously I agree, Snape is just BA to the core. If you could be any kind of otherworldly, what kind would it be, and why?
Definitely a vampire. You get to live forever and your time is unlimited. You could get to see the entire world. It might get lonely after awhile, but there are always ways to die if you don't want to do it anymore. The drinking blood part sucks, but I think eventually, like all things, you would get used to it.
~*~*~
Well, there you have it, folks! That's Kara in a nutshell...isn't she awesome?! Now head on over to her blog and check it out, or go say hi on Twitter! Thanks, Kara, for stopping by! :)