Hey everyone, I hope you had a great weekend! I've got another great blogger for you all to check out this week...Donna from Book Passion for life! This lady is just made of awesome and if you haven't checked out her blog, go do it NOW...well, after you've read this interview, of course. :)
Name: Donna
Age: 26
Interests: Reading, Cooking, Shopping, Going out with friends, Spending time with my family & Travelling
Favourite Books: Twilight, Hush Hush, The Mortal Instruments, Nightshade, Perfect Chemistry, Firelight, Angel, The Hunger Games.
About Me: I'm 26 years old and I'm from Birmingham, UK. I live with my partner of 4 years and our baby daughter 'Isabel' who is 15 months old. Twilight was a series for me that started my reading off. Since then, I have been a avid reader and love Paranormal Romance & Urban Fantasy. I enjoy speaking with people about books and I love getting recommendations off people. So feel free to pass any my way :)
GRAB HER BUTTON!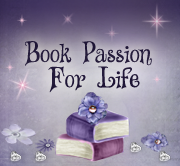 My favourite pastime is spending time with my 15 month old daughter. It amazes me how much she grows into her own character and every single day she does something that will surprise me or make me proud to be a mum -
. It's a true gift to watch your child grow and I love every minute of it. And of course, spending time with my partner and family too. My second pastime is watching TV. Before reading I was a TV fanatic, I'd finish work and watch re-runs of Friends, Sex and the City, Buffy, Angel, Roswell & Dawson's Creek. Now it's all about The Vampire Diaries, 90210, The Secret Circle & Teen Mom whenever I'm not reading.
I love seeing pictures of your daughter; she's adorable! And I totally love TVD. :) What's one of your favorite places to go to take it easy/have fun?
By where I live we have a big entertainment place called Star City. It's full of my favourite restaurants like Nando's & Bella Italia but it also has a casino, bowling, a cinema, arcades, a bar with pool tables and also a small fair or circus depending on the time of year. I love going their because there is such a wide range of things to do and I always have fun with whoever I go with.
Okay, when I come over there to visit, we're going to Star City! It sounds awesome! Speaking of traveling, where's one place you'd love to see someday?
Does the whole of America count as one place? Lol. Honestly, I want to travel all over America. I want to go to New York to see the Empire State Building and eat some hot dogs. I want to go to San Francisco to visit Alcatraz. I want to go to Florida for the amusement parks and Disneyland. I want to go to LA to see Hollywood. Not only that I'd love to travel down route 66 and I'd love to visit all the other places like Ohio, Texas, Georgia, and Washington PLUS I so want to go and meet my book blogging bestie Haley from Ya-Aholic. It's safe to say if I ever won the lottery….you'll know to find me somewhere in America. Lol

Hah! Well if you ever get over here to America, you better come visit me in Wisconsin! We have cheese...and cows. Seriously, what's not to love about that? ;) And of course, the "bookish" questions:


I've always enjoyed reading but after reading so many good books and never have anyone to share my thoughts with, I started writing mini reviews on Goodreads. After a few
weeks I kept seeing all these lovely blogs out there and thought….why not? So….I asked Jess if she wanted to join me because she's just awesome, lol and I'm so glad we've got so far as we have. It's nearly been a year in March we've been blogging and definitely it's been a year to remember. There are so many awesome people I've met and without blogging, I don't think we would have met them. So I'm truly grateful to blogging for bringing in all these wonderful friends into my life.

Your blog is great, and your reviews are phenomenal! Obviously since your main goal is to spread the love of books, you've gotta curl up and read. Do you have a certain place you enjoy to read?
In bed! I love curling up and reading.

Ah, I love reading in bed! Perfect way to end the day in my opinion. What was your favorite book growing up?
I'm ashamed to admit I don't have a favourite book growing up, because I didn't read and it's one of my biggest regrets. I remember one of the first books I read though and that was Memoirs of a Geisha. An old work colleague convinced me to read it and I loved it and it's also one of my favourite films too.
It's totally okay that you didn't read much when you were younger. You're making up for it now! Plus I love your book suggestions, so with that in mind, what's your favorite book this year so far? (It's okay if you have more than one!)
2012 has started out with a bang and so far my favourites have been Touch of Power by Maria V Snyder, Shatter Me by Tahereh Mafi, Touch by Jus Accardo, Accordance & Devour by Shelly Crane. All books I highly recommend.

I've read Shatter me, and I was pretty impressed! I am really intrigued by Shelly Crane's books, so I might just have to check those out on Goodreads. If you could meet one author, alive or dead, who would it be?
Could I pick Megan Curd? Lol I think it would be awesome to have a meet up and good chat about books and life. - Otherwise I'd have to say Cassandra Clare or Julie Kagawa. I love all these authors.
Oh my! It's definitely a boy….but which one to chose? My answer will probably change as the more books I read but as of right now….I'd pick Aiden from Half-Blood by Jennifer L Armentrout. He is one hottie.
He sounds yummy, and I've been hearing great things about Armentrout's books. I'm getting curious. Those may have to go into the TBR pile too. Finally, if you could be any kind of otherworldly, what kind would it be, and why?
I really like the idea of being a faerie, there just awesome BUT I have to say these half Greek descendants are really creeping there way into my heart, it's a tough choice. I can't choose!
~*~*~*~
Thanks so much for stopping by, Donna! It was great to have you on the blog, and I can't wait to read more of your posts on Book Passion for Life!